Dental Care For All
On Tuesday, May 4 help us push for a federal dental care plan for Canada
On February 2, NDP MP Jack Harris (St. John's East) tabled Motion-62 in the House of Commons calling on the Liberal government to establish a federal dental care plan for Canadian families earning less than $90,000 per year. This would be an interim measure toward the inclusion of full dental care in Canada's health care system. This is essential because good dental health can impact a person's entire well-being.
There is a divide between people who have good teeth and people who do not have access to the care that is required to make sure they have proper oral health. That is not fair. It is a great inequality. It is one of the most unequal aspects of health care in Canada, because most dental care is not covered by public health insurance. – Jack Harris, M.P., St. John's East
We know that many Canadians putting off caring for their teeth because they can't afford to go to a dentist. This is wrong. It doesn't need to be this way.
According to a Parliamentary Budget Office report released in October 2020, nearly 6.5 million Canadians would benefit from our proposal, a number that continues to grow as people lose their jobs and dental insurance during the COVID-19 pandemic.
More than one in five Canadians avoid the dentist every year because of the cost.
Emergency room visits due to dental emergencies cost taxpayers at least $155 million annually.
Here are some actions you can take:
You can sign our petition here.
Share our petition with your networks and across your social media accounts.
Make a video like this one from the Coalition for Dental Care.
Watch it here.
Use the hashtag: #DentalCare4All
Watch the NDP Dental Care Press Conference Opening Remarks from Jack Harris, MP St. John's East and Jagmeet Singh, NDP Leader, February 2, 2021 on a federal dentalcare program here.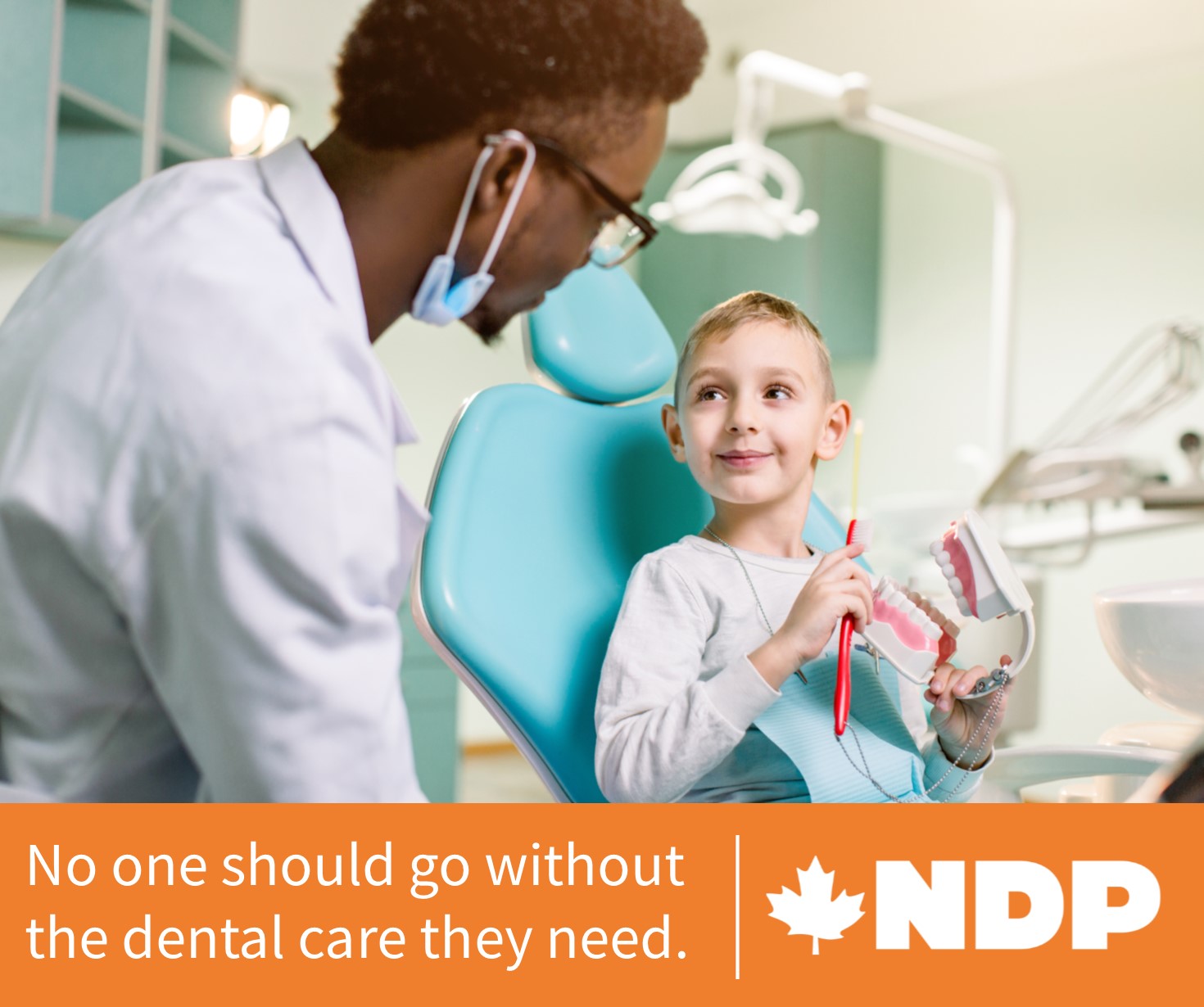 No one should have to deal with agonizing dental pain or put their health at risk because they can't afford to go to the dentist. Yet millions of Canadians do not have access to adequate dental care. Often it is young people, low-wage and precarious workers, and seniors who have little to no insurance coverage – and no way to get the care they need.
The NDP Dental Care Plan is a first step towards achieving Tommy Douglas' vision – comprehensive dental care as part of our healthcare system. He championed the idea more than thirty years ago: "The ultimate goal of Medicare must be to keep people well rather than just patching them up when they get sick... It means expanding and improving Medicare by providing pharmacare and denticare programs." (The Future of Medicare, 1984)
More and more Canadians are being left behind by the Liberal government's failure to act on dental care. New Democrats are leading the way in making dental care an integral part of Canada's health care system so that people don't have to keep delaying the care they need.