Dental Care For All
On Tuesday June 15 help us push for Universal Dental Care for all Canadians
This Tuesday, June 15, The House of Commons will be holding the second hour of debate on Jack Harris's Motion for a federal dental care plan for Canada. Debate will occur around 6:30pm NL Time.
You can watch the proceedings here.
There is a divide between people who have good teeth and people who do not have access to the care that is required to make sure they have proper oral health. That is not fair. It is a great inequality. It is one of the most unequal aspects of health care in Canada, because most dental care is not covered by public health insurance. – Jack Harris, M.P., St. John's East
We know that many Canadians putting off caring for their teeth because they can't afford to go to a dentist. This is wrong. It doesn't need to be this way.
On February 2, NDP MP Jack Harris (St. John's East) tabled Motion-62 in the House of Commons calling on the Liberal government to establish a federal dental care plan for Canadian families earning less than $90,000 per year. This would be an interim measure toward the inclusion of full dental care in Canada's health care system. This is essential because good dental health can impact a person's entire well-being.
According to a Parliamentary Budget Office report released in October 2020, nearly 6.5 million Canadians would benefit from our proposal, a number that continues to grow as people lose their jobs and dental insurance during the COVID-19 pandemic. More than one in five Canadians avoid the dentist every year because of the cost. Emergency room visits due to dental emergencies cost taxpayers at least $155 million annually.
Here are some actions you can take:
To show support for our work on dental care please sign our petition here.
Share our petition with your networks and across your social media accounts.
Use the hashtag: #DentalCare4All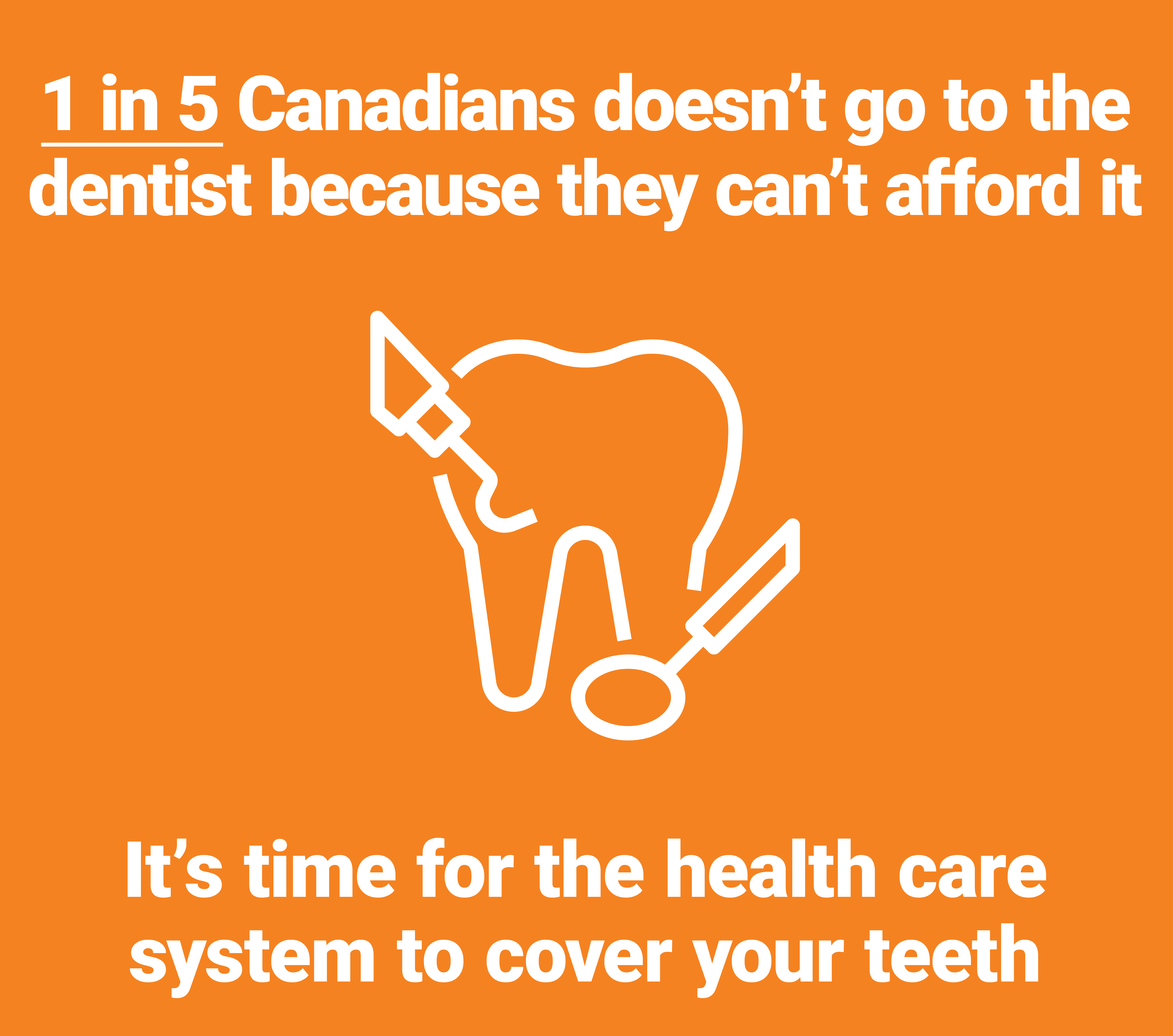 No one should have to deal with agonizing dental pain or put their health at risk because they can't afford to go to the dentist. Yet millions of Canadians do not have access to adequate dental care. Often it is young people, low-wage and precarious workers, and seniors who have little to no insurance coverage – and no way to get the care they need.
Numbers cannot quantify the pain, social impacts and economic losses suffered by those with untreated dental problems, often for life.
You can watch the first hour of debate on Motion 62 here.